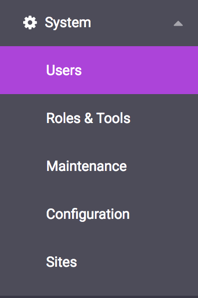 There are two types of user logins in dotCMS: front-end and back-end.
Front-End User Accounts
Front end user accounts give access to restricted content and/or restricted sections of the front-end (public facing portion) of your site - very much like a traditional account login system used at many other sites.
You must create and manage front-end user accounts yourself, as appropriate for your implementation. Depending on how you implement front-end user accounts, you may collect and track certain user information, perform different types of authentication, and track specific logged in user's browsing habits within your site(s).
Back-End User Accounts
Back-end users are users who are able to login into the dotCMS back-end console. Back-end users are extended Permissions which give them access to tools used to add and modify content or otherwise change your site (as their permissions allow).
When you create a User account in dotCMS, you create a back-end user. Rights for back-end users are typically managed via user Roles.
Important Notes
For any user to create or make changes to user accounts, they must have the CMS Administrator role assigned.
The recommended way to create front-end user accounts is by creating a Custom Content Type to create and manage front-end user accounts.

This gives you full control over what information is collected and tracked, how users are authenticated, and what permissions users have to all content on your site.
This also provides the greatest security.

It is possible to provide front-end user accounts using regular dotCMS user accounts.

To do this, each front-end user account should be assigned a Role which has explicitly restricted access to the dotCMS back-end console (by eliminating rights to view all dotCMS back-end tabs).
However for security purposes it is strongly recommended that you create and maintain front-end user accounts separately from back-end User accounts.

This ensures that front-end users can never access the dotCMS back-end (even due to a configuration error), since front-end users will not have valid user accounts in the dotCMS back-end.