Adding New Content
You may add new Content either from the Content tab or while working directly on an HTML page. This document describes how to add new Content from the Content Tab; for more information on adding Content while editing a Page, please see the Add New Content to a Page documentation.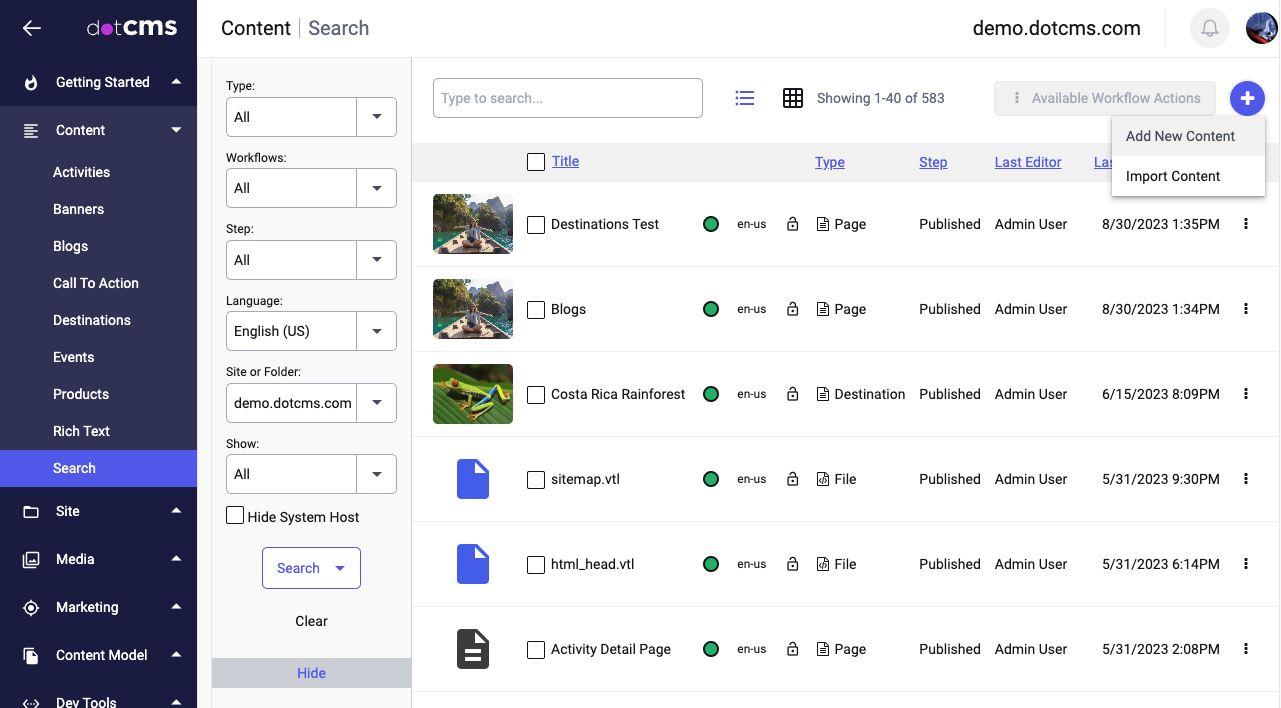 From the Content tab you may Search Content, Add New Content, Edit Content or Import Content by uploading a file. To add new Content from the Content Search Manager:
Select the Content tab.
Choose a Content Type from the drop down menu.
Click the Add New Content button.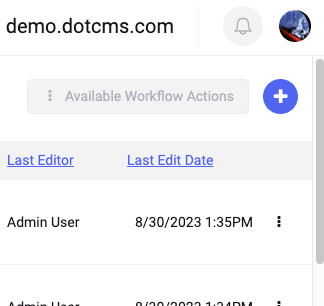 The image below shows a contentlet being added to a "Blog" Content Type. Note that the required field names are marked with an asterisk.

Fields providing hints for content contribution have a chat icon next to them. Hovering over the chat icon will display the hint text.
Once the Content fields have been filled out, some or all of the following options will be available (depending on your Permissions and the Workflow defined for the Content Type):
Preview: A quick link (first added in agile release 23.03) to view the current page in Preview Mode — whether a traditional page or URL-mapped content.
Save/Assign: Creates a draft/"working" copy and workflow task for the content to be reviewed/edited/published by another dotCMS user.
Save: Saves a draft/"working" copy to be completed/published at a later time.
Save/Publish: Saves a live copy of the Content that is immediately available for display on Pages.
Copy: Create an unpublished duplicate of the contentlet.
Cancel: Exit without saving the new contentlet.
For more information on each of the different field types in contentlet, please see the documentation on Standard Field Types, the WYSIWYG Fields, and Tags and Categories.
Editing Content
To edit Content that has already been created:
Select the Content tab.
Search for the Content to be edited.
Click on the title of the Content to be edited, or right-click on the Content title and select Edit from the pop-up menu.
Note:
Right-click options on Content will vary depending on the current status of the Content (Published, Unpublished, or Archived).
Archived Content must first be Un-Archived before it can be edited.