In addition to the default Tool Groups provided with the dotCMS starter site, you can create your own Tool Groups. This allows you to create Tool Groups with the exact combination of tools needed to give each of your Roles access to just the tools they need, which both simplifies the back-end interface for your users and improves security.
Creating a Custom Tool Group
To create a custom Tool Group:
Select System -> Roles & Tools from the navigation side bar.
Select a Role that will receive access to the new custom Tool Group.
Click the Tools tab.
In the Role detail area, click the Create Custom Tool Group button.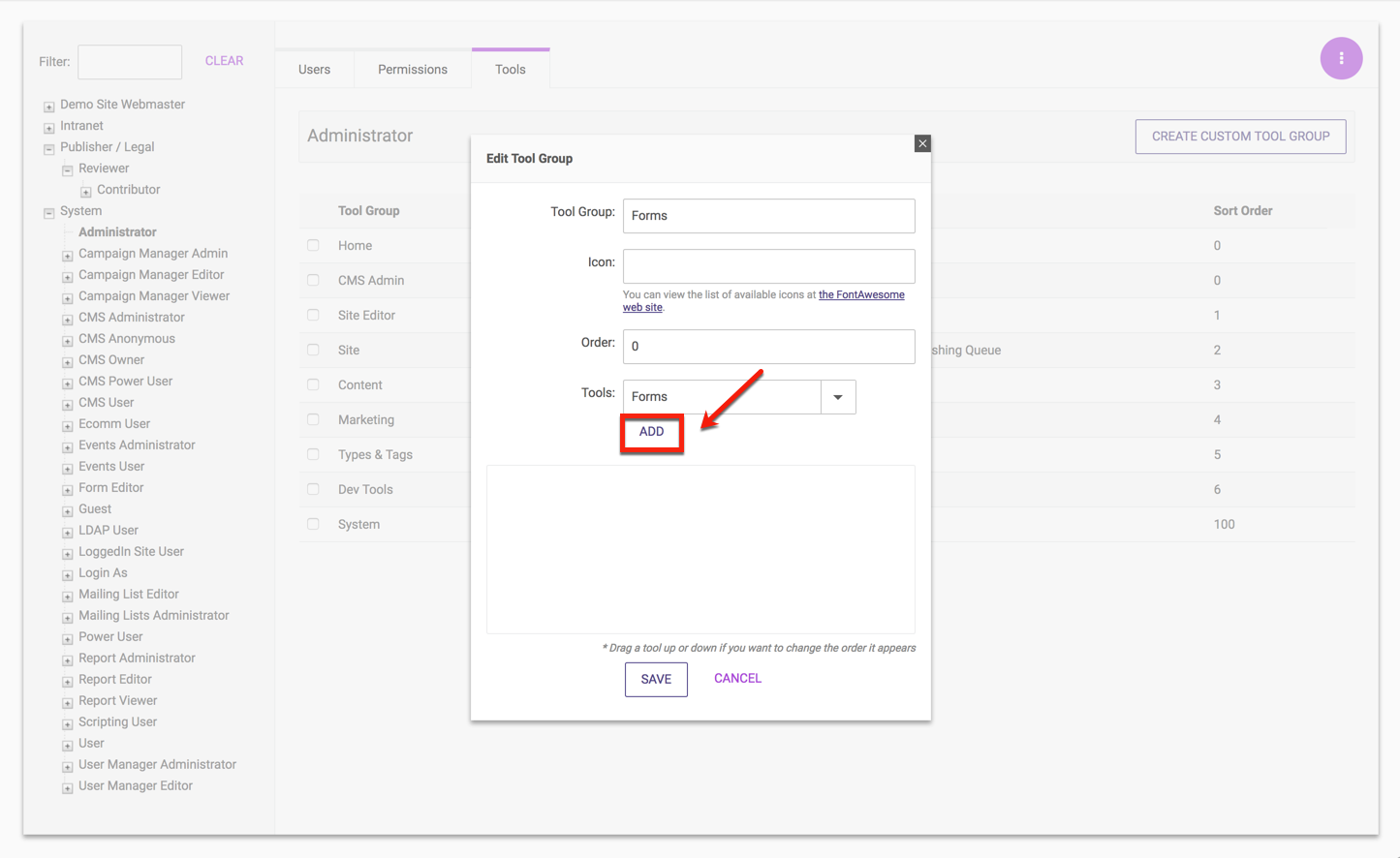 The Edit Tool Group popup contains the following properties:
Property
Description
Tool Group
The name of the Tool Group, which will display as a heading on the navigation side bar.
Icon
The class name of a Font Awesome icon.

You may find a list of icons and their class names on the Font Awesome web site.
If you do not supply an icon name, or if the name does not match a valid Font Awesome icon, a default icon will be displayed.
dotCMS uses Font Awesome v4.7.0, so only icons existing in this version of Font Awesome are recognized.

Order
An integer specifying the order the Tool Group will display in the navigation side bar.

Tool Groups will display in ascending order based on this number.

Tools
Displays a list of the tools in the Tool Group, and allows you to add, remove, and re-order the tools within the Tool Group.
Available Tools
The following tools are included by default with dotCMS, and can be assigned to any Tool Group. Note that some of these tools are deprecated legacy tools that are only provided for backward-compatibility for existing dotCMS customers, and it it is strongly recommended that you do not use any deprecated tools when creating new Tool Groups.
Custom Content Tool
The Custom Content Tool enables you to create a screen which allows users to interact with content in the same way as the default Content Search Tool, but limits the Content Types displayed and managed in the Tool. In addition when admins are creating a custom content tool they can choose if they want the default view to be cards or list form.
For example, rather than having a single Content Search screen for users to access Blog, News, and Product content types, you could create a separate Tools for "Blogs", "News", and "Products".
Each Custom Content Tool can then be added and removed from different Tool Groups, allowing you to make different Content Types easily accessible to different users and Roles. Having different Content Types in different Tools can help you to simplify and organize your content in a way that makes it easier for your content contributors to work with the content.
For example, the "Vanity URL" tool is essentially a Custom Content Tool which only displays the Vanity URL Content Type. Placing it in under the "Marketing" Tool Group (instead of the "Content" Tool Group) makes it easier for content contributors who work on marketing activities to find and work with it.
It's important to understand that the Custom Content Tool does not affect user permissions on the content. This means that if a user does not have appropriate permissions to view and edit content of a given Content Type, giving the user access to a Custom Content Tool that displays that Content Type will not give the user the ability to view or edit the content.
Specifying Content Types
When configuring a Custom Content Tool, you may choose to include one specific Content Types (using the Velocity variable name of the Content Type), or all Content Types of one or more Base Content Types.
Custom Tools
You may also use plugins to create your own custom tools, which you can then add to any Tool Group. For more information on creating and using plugins, please see the Developing documentation section.