Login URL
To login to the dotCMS backend, type the URL of the home page of your site, and add /dotAdmin to the end of the URL. For example, to login to the site http://demo.dotcms.com, you would type the URL http://demo.dotcms.com/dotAdmin.

You may also browse a front end page, and then login directly to that page. First browse a page on the front end of your site, such as http://demo.dotcms.com/products. Then, edit the url in the browser, adding /edit after the domain.


After login, you will be taken directly to the page that was last browsed before the /edit parameter was added to the end of the URL.

User Name and Password
When the login page displays, you will be prompted for your user name and password: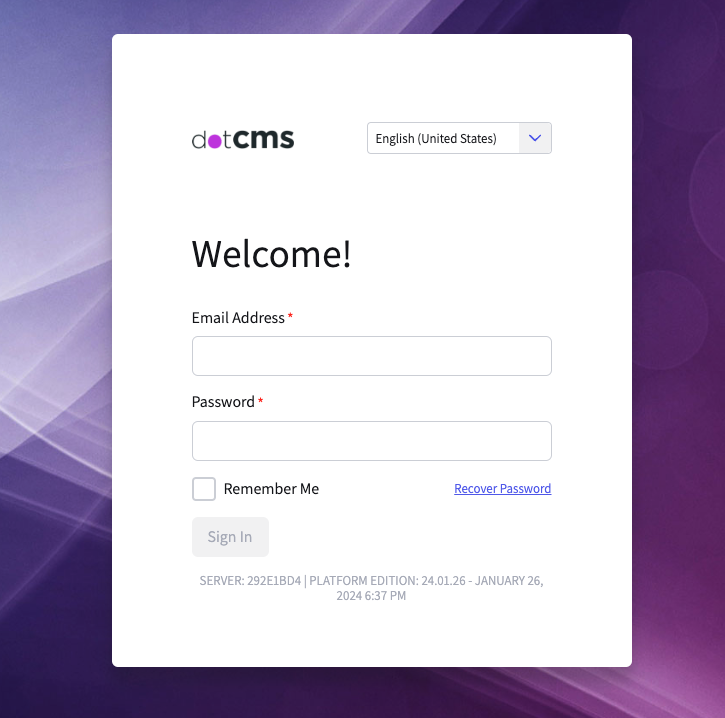 Depending on how your System Administrator has configured your dotCMS installation, your username will be either an email address or a user id.
When you first install dotCMS, dotCMS will automatically create the dotCMS starter site for you. The default login for the starter site is admin@dotcms.com. Prior to version 22.06, the password is admin; from 22.06 onward, the password will be a random string displayed in the server log. It is recommended to change this after first login.
A default admin password can also be configured through the DOT_INITIAL_ADMIN_PASSWORD environment variable.
Language Selection
The dotCMS backend can be translated into different languages, and dotCMS ships with translations for the following languages:
Dutch (nl)
English (en)
Finnish (fi)
French (fr)
German (de)
Italian (it)
Spanish (Latin America) (es)
Russian (ru)
Chinese (Simplified) (zh)
When you login to dotCMS, the language defaults to the default language configured for your dotCMS system. You may change the language used to display the backend by selecting the language in the bottom left corner of the login window: