Rules allow webmasters (or permissioned users), to configure responsive front end behavior based on a variety of visitor conditions. Rules can be set up to both support personalization for individual users, and to identify and serve content to different types of users based on differing characteristics of site Visitors and Visitor behavior during a session.
Rules can also be added to Pages. For more information, see the Adding Rules to Pages documentation.
Important Notes:
Rules are only available in dotCMS Enterprise licensed editions.
IE 11 is not officially supported for Rules functionality in the 3.5 demo/preview release.

All other current (February 2016), release versions of all major browsers are supported.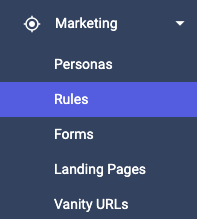 From the Rules tab you can:
Note: In addition to accessing Rules from the Rules tab, you may also access and configure the Rules via the REST API.

The Rules documentation section lists specific information on how to create new Rules, Conditions, and Actions thru the dotCMS UI and via REST API commands.